My Tiger1 Card
---
The Tiger1 Card serves as Campus Identification Card. This card remains the property of Grambling State University and must be surrendered to an authorized University Official upon request. Every registered student, Campus Faculty/Staff, and short or long-term campus contractors have access to a Tiger1 Card.
In order to obtain a Tiger1 Card, a person must show one of the following forms of identification:
Note: Cards will not be issued until a person provides the Tiger1 Card Office with proper identification.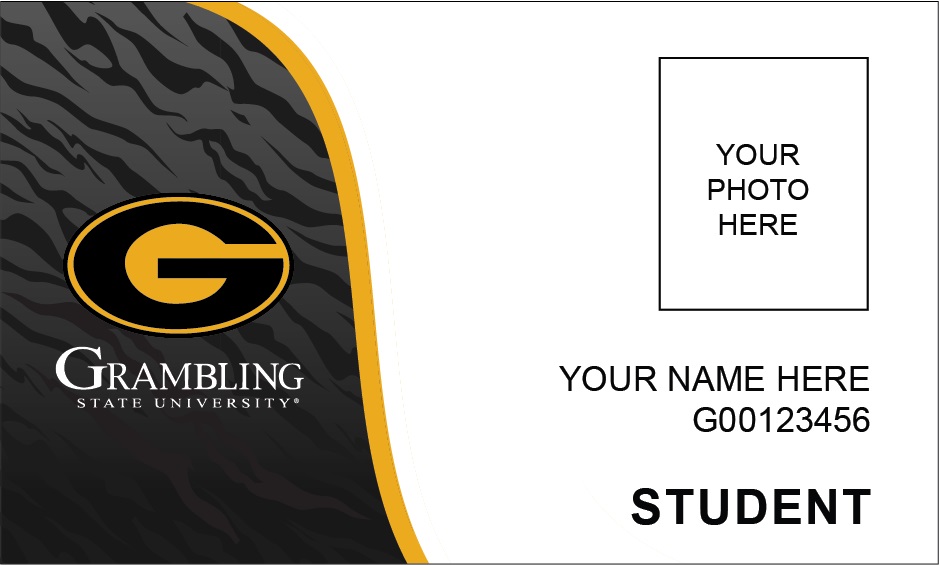 Student Tiger1 Card:
Any student (full-time, part-time, graduate, undergraduate, etc.) who is enrolled in at least one-credit at Grambling State University is eligible to receive a Tiger1 Card.
Students must be fully registered before receiving their Tiger1 Card.
Undergraduate Students are issued their initial Tiger1 Card at no charge.
Graduate students are issued their initial Tiger1 Card as a graduate student at no charge.
Before you can be issued a Tiger1 Card you must have an assigned G# (Grambling State University Identification Number). You must also have completed the registration process.
(**Your student fee sheet will be requested for verification**)

---
Faculty/Staff:
All Grambling State University Faculty, Staff and contractors are eligible to receive a Tiger1 Card. Completed documentation as well as an issued G# from Human Resources are required before a Tiger1 Card will be issued.
An authorized department administrator or campus sponsor must submit a G# request on your behalf. A Tiger1 Card cannot be issued without a G#.
---
Advantages of the Tiger1 Card:
Simplicity: Money is deposited directly to your Tiger1 Card, there is no need to carry large cash amounts on campus. You will not have to search for exact change to satisfy that 'snack attack'. Use your Tiger1 Card for these purchases, and eliminate the hassle of finding exact change.
Security: Your Tiger1 Card contains your picture. To prevent unauthorized use of the card, point of service personnel are instructed to verify your picture with each transaction.
Savings: Your initial Tiger1 Card is free. There are no fees for use of the card or for any transactions.
---