Circulation
---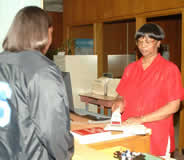 Vacant
Head of Circulation/Assistant Professor
Phone: 318-274-2474

Vacant
Library Specialist 2

Checkouts and Renewals
Current university identification cards are required for all checkouts and renewals. Guest borrowers must have a library courtesy card issued by the Circulation Unit.
Loan Periods
| | |
| --- | --- |
| Undergraduate Students | 21 days |
| Graduate Students | 30 days |
| Faculty/Staff | 1 semester |
| Retired GSU Faculty/Friends | 21 days |

Fines and Charges
| | |
| --- | --- |
| Regular Circulating Books | $0.25 per day Maximum fine $25.00 |
| Reserved Materials | $0.25 per hour Maximum fine $25.00 |
| Media/Kits | $0.50 per day Maximum fine $25.00 |

Replacement Charges
All patrons are responsible for replacement fees for non returned items and for any materials damaged while checked out in their name. The replacement fee for books not returned is $60.00.
Payment of Library Charges
Return all books to library
Secure a charge slip from the Circulation Desk
Pay fines in Accounting Office and bring paid receipt to Circulation Desk for clearance
Retain paid receipt for your record
LALINC
Resources can also be borrowed through Louisiana Libraries Information Network Consortium (LALINC) Libraries. LALINC allows persons to borrow resources from other libraries with a LALINC card. Each library determines the conditions that a borrower must meet in order to borrow resources. For example, the lending library determines the due date of materials borrowed from participating institutions. Graduate students must renew their LALINC cards at the beginning of each semester and faculty at the beginning of each academic year. LALINC applications are issued between the hours of 8:00 a.m. and 4:45 p.m. Monday through Friday at the Circulation Desk.
Electronic Reserve
Access to Electronic Reserve is available through Canvas.