International Student
---
CIAP fosters global cooperation and articulation linkages that augment overall campus internationalization. Additionally, CIAP encompasses the Office of International Student & Scholars Services which provides immigration counseling, coordinates the Homeland's Security (SEVIS Database System) and complies with the code of federal regulations as it pertains to F-1, J-1 and M-1 nonimmigrant visas. It also provides retention services for international students & supports foreign faculty exchanges and cross-cultural advising. CIAP will also administer the ESL program which will provide an intensive ESL language training to meet the needs of our growing international student population.

The Office of Study Abroad & International Academic Programs will coordinate international academic programs, faculty exchanges, GSU faculty taught courses overseas, foreign language and international studies; international joint degree programs and short term and special summer language and academic programs both overseas and in the USA in cooperation with provost's office.
The Office of International Graduate and Undergraduate Admission will coordinate foreign credit evaluation, the entire international application process, bi-national degree programs.
CIAP serves as liaison and ombudsman between the university and international students, global partners, federal government, public and private agencies, and the community.
Because of our excellent reputation and student support programs, our international student enrollment is on the rise! As an international student or scholar, you will feel welcomed and appreciated by our friendly southern hospitality!
Come and join our growing population of students from all over the world in one of the most dynamic educational experiences available in the United States. Your presence here encourages the cross-fertilization of ideas. The university's strategic goal is to foster the international dimension as one of its important pillars, right alongside its highly acclaimed academic programs. This is an integral part of our pluralistic and internationally diverse campus. At GSU, you are not merely a number; you are a valued and respected talent. You also play the role of educator by allowing us to learn from you and about you and your part of the world!

Lifelong Successful Career
Do you want to be prepared for a lifelong and successful career? Do you want to better understand how the world operates? Our distinguished academic faculty will give you a new perspective on the world. Your talents will be challenged here as we strive to be a competitive and globally-oriented campus.
International Programs & Services
CIAP is committed to providing a wide range of services such as immigration workshops, International Coffee Hours (which allow you to meet American and other international students), and our popular ethnic dinners, where we select an area of the world and showcase it. My staff and I am here to assist you through all the steps of your educational career. From the time you inquire about our university to the day you graduate, my staff and I are going to be here to help you.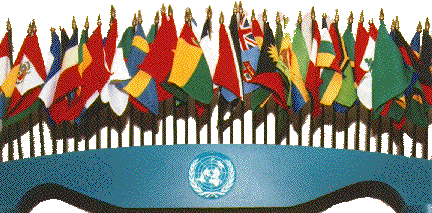 Paradigm Shift: Prepare for the Global Economy
Integration and Cooperation Replace Cold War Rhetoric
Life must be lived forward, but it can only be understood backwards. The role of the university is to prepare you for the future so that you can face the new challenges of the global village. The aim is to graduate students that can successfully function in a global, interconnected economy. We provide activities and community resources designed to promote friendly international understanding of cross-cultural diversity issues on campus and in the community.
Making the World a Better Place
Our objective is simple: we want to be an open minded community of learners making the world a better place -- by creating new standards in higher education that support world peace, mutual respect and understanding. You are welcome to join our university to learn, but I hope that you will also teach us something about your country and culture! It all begins here! I look forward to making your acquaintance.
Scholarships
Please contact us (below) for details.
International students who apply early may qualify for a partial scholarship grant lasting up to 4 years. Earliest applicants will receive first consideration, since the number of admission seats and grants are limited. Subject to availability of funding. Certain conditions and restrictions apply.
Please contact:
Center for International Affairs & Programs (CIAP)
GRAMBLING STATE UNIVERSITY
100 Founder Street, Suite 51
Grambling, Louisiana 71245-1188 USA
Tel: (318) 274-6556
Fax: (318) 274-3292