WELCOME FROM THE DEPARTMENT HEAD
Kinesiology, Sport & Leisure Studies Welcomes you to "GSU"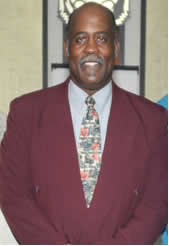 On behalf of the faculty, staff and students, welcome to the Department of Kinesiology, Sport and Leisure Studies (KSLS) and the Sports Administration Graduate Program. With the beginning of the 2022 Fall Semester, KSLS will be celebrating its 72nd anniversary as an academic department. And we're delightful that you will be meeting the scores of former and current majors.
You'll receive instruction from expert faculty who are continuously retooling their skillsets to provide quality learning experiences for you. Professionally engaged and involved, our faculty serve on numerous college and university-wide committees. With over 400 undergraduate majors and 100 plus graduate students in the graduate program, KSLS is among the academic units with large enrollments. Our location in the Fredrick C. Hobdy Assembly Center, students majoring in the KSLS Department are privy to state-of-the-art classrooms, computers, and laboratory facilities.
The department offers undergraduate options in Kinesiology with concentrations in either Health Promotion, Pedagogy (Teaching) or Sport Management, or Leisure Studies with concentrations in either General Recreation or Therapeutic Recreation.
Additionally, students who desire to engage in graduate study have the option of pursuing a graduate degree in Sports Administration.
Students also have the option of pursuing a minor in the KSLS Department in the areas of: Coaching; Physical Education (non-teaching); Sport Management; Substance Abuse Counseling; and, Health Education.
Again, we're delighted to have you join the KSLS Department Family. Grambling State University has a proud heritage accentuated by its rich history of producing outstanding KSLS graduates who've had stellar careers and have positively impacted society. The success of our graduates has uniquely positioned the KSLS Department to prepare our graduates for the 21st century global workforce.
As we celebrate our 65th Anniversary, join us and be a part of the KSLS adventure. One Village, One Mission, One Vision, One Grambling. Welcome!
In an effort to enhance the quality of instruction for KSLS majors, faculty are actively engaged in numerous outreach efforts that include but not limited to: grant writing; professional certifications and licensure; and other professional endeavors.
Chronology of Departmental Milestones
1950-51: Legendary Football Coach (Dr.) Eddie G. Robinson, Sr. is named the Head for the newly created Department of Health and Physical Education (HPE).
1954: Mrs. Daisy Johnson becomes the HPE Department's first full-time secretary.
1956-57: Mrs. Bessie McKinney, a graduate of Tuskegee Institute, becomes the first full-time female instructor in HPE.
1958-59: Dr. C.D. Henry becomes the Department Head; HPE.
1958-59: The Recreation Program concentration is added; the department is renamed as Health, Physical Education and Recreation (HPER); Men's Memorial Gymnasium is constructed and becomes the new home of the HPER Department.
196--: Natatorium is constructed and opens for aquatic classes; swimming classes first offered on-campus for Grambling students.
1966-67: Dr. Dorothy S. Hardy becomes the first female Grambling HPER graduate to be employed full-time in HPER.
1967: Dr. Jeanette A. Hutchinson is employed as an Aquatic Instructor and becomes the first female Aquatic Instructor in Louisiana to be certified by the American Red Cross as a Water Safety Instructor (WSI).
1974: Dr. C.D. Henry leaves Grambling to become Assistant Commissioner of the Big Ten Conference; Dr. William M. Sanders becomes HPER Department Head.
1975: Graduate Program (and Degree) in Sports Administration is approved by the Louisiana Board of Regents.
Additional Information: