Career Fair Letter to Employers
---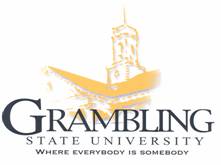 Office of Career Services
Good morning,
The Office of Career Services at Grambling State University invites you to participate in a corporate reception for students and employers on Monday, February 17, 2020, and the 2020 Spring Graduate & Professional School Expo on Tuesday, February 18, 2020.
The career fair is open to students and recent graduates. Grambling State University offers 42 undergraduate and graduate degree and certificate programs through four colleges, including two professional schools and a graduate school. To learn more about our Academic programs, please visit: https://www.gram.edu/academics.
Here are a few highlights about our University and students:
Grambling State University is the top producer of African-American Computer Information Science graduates in Louisiana,
We are home of the first Bachelor of Science degree in Cybersecurity in Louisiana.
We have more than 5,200 students, a five-year enrollment record for our University.
By 2021 our growing campus infrastructure will include the first HBCU digital library ($16.6 million), all new dining facilities ($6.7 million renovation), a new health and wellness center, and new global conferencing computer labs throughout campus.
Our new academic offerings include new degrees in nursing program, doctor of chiropractic degree through a partnership, and a growing list of technology programs.
Participants can register on Handshake. Registration fee to participate in the career fair is $225.00 and $150.00 for government agencies. Each registration includes one table with two chairs and lunch for two representatives. Additional reps will be charged $25.00 each. Payments can be made with a credit card with the link below:
https://secure.qgiv.com/for/2bgpsgr
Checks can be mailed to:
Grambling State University Office of Career Services
403 Main Street GSU Box 4264
Grambling, LA 71245
Feel free to contact the Office of Career Services for additional information. The Office of Career Services looks forward to collaborating with you to fulfill your recruiting needs!
Respectfully,
Director, Office of Career Services
Jacob T. Stewart, Suite 130, 4264 GSU Box, Grambling, LA 71245 Office: 318-274-2346 Fax: 318-274-3357
email-careerservices@gram.edu www.gram.edu/careerservices twitter & instagram @tiger_works
A Constituent Member of the University of Louisiana System
An Equal Opportunity University
MOTTO:
YOU NEVER GET A SECOND CHANCE TO MAKE A FIRST IMPRESSION!!