Federal Plus Loan
---
PARENT PLUS LOAN REFUNDS NOTIFICATIONS:
In an effort to eliminate the possibility of fraudulent submission of information to the Department of Education, Grambling State University has elected to mail ALL Parent Plus Loan (PPL) refunds to the parent. There will be NO exceptions.
The Higher Education Act (HEA) of 1965 (Part B, Title IV, Amended), created the guaranteed student loan programs. The Higher Education Amendments of 1992 reauthorized the HEA and renamed the guaranteed student loan programs the FFEL Program, which now comprises Federal Stafford Loans (formerly Guaranteed Student Loans) and Federal PLUS Loans.
The PLUS Loan is a non-need-based federal loan for which parents can apply for dependent students. The interest rate is variable and repayment begins after the loan is fully disbursed. The lender requires a credit check before the loan is approved. The current interest rate on the PLUS Loan is 4.22%. The rate shall not exceed 9%. This is a variable rate and is changed every July 1. Like the Stafford Loan Program, PLUS Loans are made by a lender such as a bank, credit union or savings and loan association. The parent will be charged a 3 percent (3%) origination fee and a 1 percent (1%) guarantee fee on each disbursement of the loan.
PLUS LOANS ARE NOT PROCESSED DURING REGISTRATION WITHOUT THE APPROVAL OF THE DIRECTOR.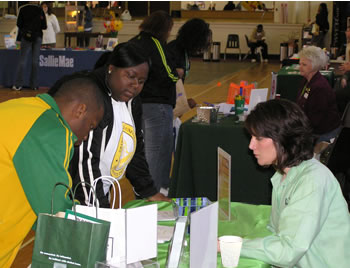 Eligibility
To be eligible for a Federal PLUS Loan, the parent must:
Be the natural or adoptive parent, or legal guardian of the dependent undergraduate student
Be a U.S. Citizen, U.S. national or eligible non-citizen. The student must meet this requirement as well
Not be in default in or in delinquent status on prior student loans
Not have adverse credit history as determined by the lender
The student must have filed the Free Application for Federal Student Aid or the Federal Renewal Application
The student must be enrolled at least half-time and be making Satisfactory Academic Progress
Loan Disbursements
PLUS Loan disbursements that are not EFT (Electronic Funds Transfer), are made co-payable to the school and the parent. Both the school and the parents must endorse the check before it can be negotiated.