About Army ROTC
---
A COLLEGE COURSE THAT PUTS YOU AHEAD OF YOUR CLASS.
Army ROTC is a unique college elective. It takes no more of your time than would most other college courses. The credits received from ROTC classes go toward your diploma. And when you graduate, you'll receive a diploma and a commission as a second lieutenant in the U.S. Army. ROTC also awards scholarships based solely on merit to hundreds of students each year. Qualify, and you could get a scholarship worth up to $ 80,000 at some schools, including a monthly allowance.
ROTC training goes beyond the typical college classroom. You could be leading your classmates on a tactical "mission," or taking part in outdoor adventure training designed to improve your ability to solve problems under stress.
You'll learn skills you would expect to find in an Army officer including how to motivate co-worker, cope with the unexpected, and organize large, complex tasks. But you'll also learn skills in demand today in the civilian and business world such as teamwork, tact, and effective communication. You'll learn from experienced Army officers and noncommissioned officers and, in time, help pass on what you've learned to newer students as well.
In other words, you'll learn how to take charge…take command… and take the lead.
MAKE A START WITHOUT MAKING A COMMITMENT.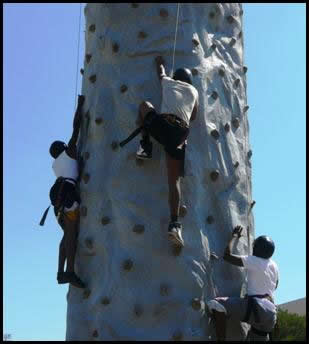 Traditional, Army ROTC is a four-year program. The first two years of the program comprise the Basic Course. This includes classroom studies in such subjects as military history, leadership development and national defense. You can enroll in the program for the first two years without incurring any future military obligation (if you don't have a ROTC scholarship).
After you've successfully completed the Basic Course, you can compete to gain admission into the Advanced Course. It's during this part of the program that you'll get to put your newfound management skills to the test. Of course, you'll also continue to get instruction in tactics, ethics and professionalism.
As a cadet in the Advanced Course, you'll spend the summer between your junior and senior years attending Advanced Camp. In camp you'll be asked to handle the complex tasks of a unit leader. You may have to lead your group across difficult terrain or build a bridge across a river. You may have to solve difficult personnel problems, or be in charge of expensive military equipment. It's all meant to teach you how to think quickly when the pressure is on, and how to motivate your team.
Then, as a cadet in the Advanced Course, your management skills will continue to be sharpened. You'll teach new ROTC students what you've learned. And when you graduate from college, you're ready to be a commissioned officer in the U.S. Army.
During your four years in the program, all ROTC textbooks, uniforms and essential materials will be furnished at no cost. In addition, if selected for the Advanced Course, you'll receive an allowance of up to $1,500 each year.
DO IN TWO YEARS WHAT IT TAKES MOST TO DO IN FOUR.
If you miss the first two years of ROTC, are a graduate of a junior or community college, are entering a two-year postgraduate course of study, or are a high school planning to attend a Military Junior College, you may still qualify for a commission through the two-year Program.
In this program, you first attend the ROTC Basic Camp, Camp Challenge, for six weeks. Upon successful completion of Camp Challenge, you'll be eligible for the Advanced Course.
A SMART CAREER MOVE.
Besides the benefits already mentioned that Army ROTC offers you throughout your college career, your ROTC training gives you one more advantage…an advantage that lasts a lifetime. It's the impression it makes on employers.
To a future employer, ROTC on your resume says that you've been trained by the U.S. Army to handle personnel and assignments. It says that you have more real world experience than most other people your age when age when it comes to solving problems and accomplishing tasks quickly and efficiently.
ROTC on your resume is an invaluable plus. It could be the difference an employer is looking for when making hiring decisions. It could be the difference between getting a job…or just applying for one.
MONEY FOR COLLEGE AND YOUR ROTC BOOKS ARE FREE.
Getting a college education is expensive. But you already know that. What you may not realize is that Army ROTC awards scholarships to hundreds of students---good at hundreds of college campuses across the U.S.---each year. ROTC scholarships are awarded strictly on merit---to the most outstanding students who apply, regardless of their families' financial status.
Our scholarships are offered at several different monetary levels, and all applicants are considered for each level. The scholarships provide money for college tuition and educational fees. An additional scholarship benefit is a designated book allowance. Army ROTC scholarship winners also receive a tax-free allowance of $150 a month for up to 10 months for each year the scholarship is in effect.
OTHER ROTC OPTIONS.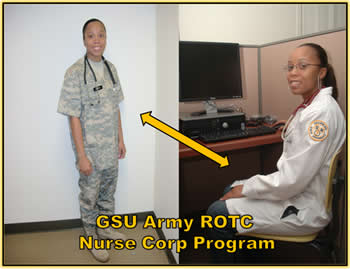 The Army Nurse Corps. Nursing students can take Army ROTC in college along with their other studies and begin their professional careers as officers in the Army Nurse Corps.
Nursing Cadets are exposed to the professionalism of Army Nursing by attending the Nurse Summer Training Program in lieu of the traditional Advanced Camp. This program consists of two phases. The first offers you military training geared toward providing leadership opportunities. The second puts you in a military hospital where you'll work one-on-one with a trained professional nurse and learn by doing. And that's experience you can be sure most other college nursing students are not getting I their programs. (If you'd like more information about the opportunities available to nursing students in ROTC, complete the appropriate areas and return the attached card.)
The Simultaneous Membership Program. Another way to get a head start on your future is through the Simultaneous Membership Program (SMP). This program allows students to become members of the Army National Guard or the Army Reserve while enrolled in Army ROTC.
Advanced Course ROTC SMP students are paid for their Guard/Reserve training, plus they receive the ROTC allowance of up to $2,000 for each of their two years in the Advanced Course.
ROTC for VETERANS. If you have prior service in any of our armed forces, Army ROTC can help you make the most of the time you've invested and the experience you've gained in the military. Your prior service could help you fulfill the necessary requirements for the ROTC Basics Course. This means that you could enroll directly in the Advanced Course. (A three-year ROTC scholarship winner must begin as an MS II cadet.) What's more, complete your ROTC course and you have the same military opportunities as someone graduating from OCS or West Point.
In addition to any financial assistance you receive from ROTC, you are still qualified to receive any and all VEAP/GI Bill/Army College Funds benefits to which you are entitled. For additional information, contact the Professor of Military Science (the ROTC instructor on campus) at the college you plan to attend. To contact a Professor of Military Science, call us at 1-800-USA-ROTC and we will tell you how.
WHAT DO WE WANT FROM YOU?
Students who enter the Advanced Course must agree to complete a period of military service upon graduation. If you successfully complete the ROTC course, you'll graduate with a diploma and a commission as a second lieutenant in the U.S. Army. That's an accomplishment that you, your parents, relatives and friends will be extremely proud of.
Upon graduation and commissioning, all ROTC graduates have an obligation to serve either full-time in the active Army or part-time in the Army National Guard or U.S. Army Reserve.
The U.S. Army Reserve (USAR) is a federal force with no state obligation. Its mission is to provide the active Army with trained units and prepared individuals in times of national emergencies. The Army National Guard (ARNG) is a state-administered military force under the control of each state governor. When needed, it can be called on to assist state and local authorities to help protect life and property, and to preserve peace, order and public safety.
A Professor of Military Science can provide you a more detailed explanation of your military service obligation and can answer any other questions you have about ROTC.
Army ROTC graduates will discover the same responsibilities, challenges and opportunities with ARNG and USAR service as their counterparts on active duty.
Guard and Reserve duty allows you to simultaneously purse a military and civilian career. These branches of the Army require a "part-time" commitment from you. For instance, as a Reservist, you'll serve just one weekend a month, and two weeks a year. Of course, you may be called to active duty in time of national emergency.
No matter which duty you choose---Active Army, Reserve or Guard---you'll be serving your country as an officer.