Welcome to the Office of Internal Audit
---
Internal Audit Mission: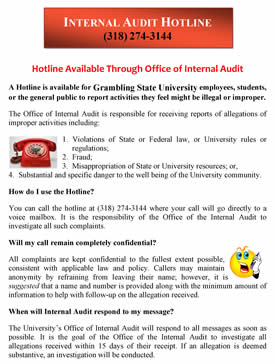 The mission of the Office of Internal Audit is to support the University's administration and the Finance Committee of the University of Louisiana System in the effective discharge of their responsibilities by promoting integrity and compliance in all university operations. To this end, we will provide an independent appraisal of the University's activities and report on the adequacy of internal controls, the accuracy and propriety of transactions, the extent to which assets are accounted for and safeguarded, and the level of compliance with institutional policies and government laws and regulations. Additionally, we will furnish analyses, recommendations, counsel, and information concerning the activities reviewed.
The Office of Internal Audit reports directly to the President of Grambling State University and functionally to the Board of Supervisors of the University of Louisiana System through the System Director of Internal and External Audit.